The 2016 U.S. national election race that commenced 595 days ago and involved 22 major candidates is expected to conclude this Tuesday as millions of American voters head to the polls precincts across the United States of America (USA) to cast their ballots for the highest office position president as well as vice president, their representatives in Congress and other elected officials.
Last Monday, Democratic presidential nominee Hillary Clinton, the former secretary of state and former first lady, had a small 4-percentage-point lead over Republican part presidential nominee Donald Trump. Senator Tim Kaine, D-Virginia, is Hilary Clinton's vice presidential nominee and Republican Governor Mike Pence is Donald Trump's running mate.
The 50 states and Washington D.C. vote across six different time zones of the United States throughout Tuesday, November 8. But it's not just winning the popular vote that counts in this historic US election between the Democrat candidate Hilary Clinton and Republican's Donald Trump. The US' complicated system is a race to secure 270 out of the 538 votes.
Most of the states will have to wait for polling stations to close – typically between 19:00 Eastern Standard Time (00:00 GMT) and 20:00 EST (01:00 GMT) – for state projections.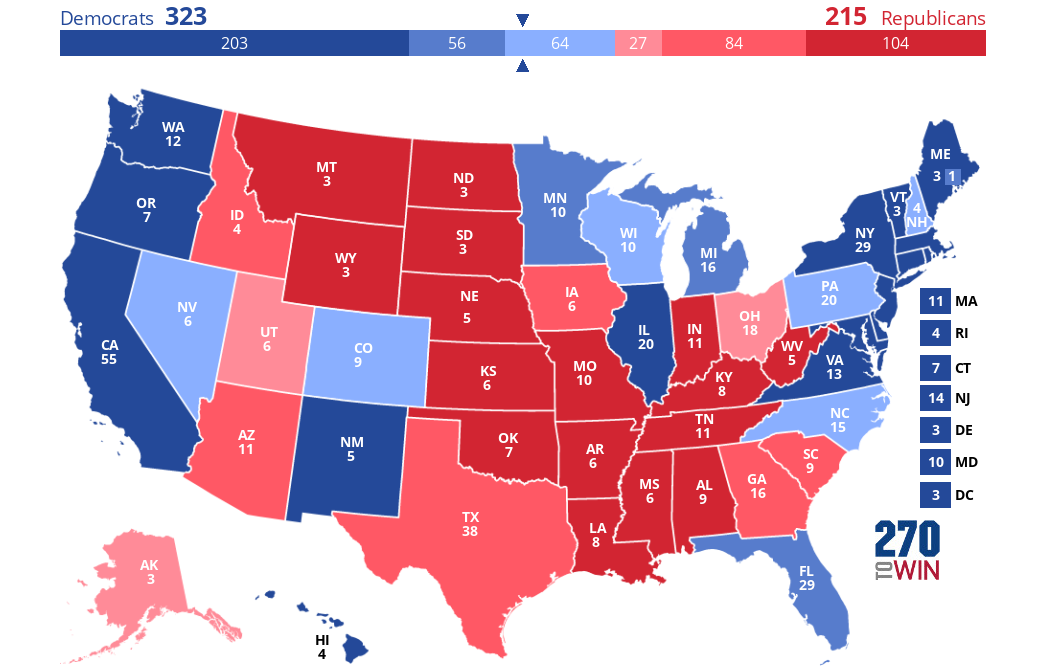 Election poll closing times in each state:
6PM ET (2 states, 19 electoral votes)
Indiana (11 EVs) — Some parts of the state close at 7 p.m.
Kentucky (8 EVs) — — Some parts of the state close at 7 p.m.
7PM ET (4 states, 41 electoral votes)
Georgia (16 electoral votes)
South Carolina (9 EVs)
Vermont (3 EVs)
Virginia (13 EVs)
7:30 p.m. ET (3 states, 38 electoral votes)
North Carolina (15 EVs)
Ohio (18 EVs)
West Virginia (5 EVs)
8PM ET (16 states + DC, 172 electoral votes)
Alabama (9 EVs)
Connecticut (7 EVs)
Delaware (3 EVs)
District of Columbia (3 EVs)
Florida (29 EVs)
Illinois (20 EVs)
Maine (4 EVs)
Maryland (10 EVs)
Massachusetts (11 EVs)
Mississippi (6 EVs)
Missouri (10 EVs)
New Hampshire (4 EVs)
New Jersey (14 EVs)
Oklahoma (7 EVs)
Pennsylvania (20 EVs)
Rhode Island (4 EVs)
Tennessee (11 EVs)
8:30 PM ET (1 state, 6 electoral votes)
9PM ET (14 states, 156 electoral votes)
Arizona (11 EVs)
Colorado (9 EVs)
Louisiana (8 EVs)
Kansas (6 EVs)
Michigan (16 EVs)
Minnesota (10 EVs)
Nebraska (5 EVs)
New Mexico (5 EVs)
New York (29 EVs)
North Dakota (3 EVs)
South Dakota (3 EVs)
Texas (38 EVs)
Wisconsin (10 EVs)
Wyoming (3 EVs)
10PM ET (4 states, 21 electoral votes)
Iowa (6 EVs)
Montana (3 EVs)
Nevada (6 EVs)
Utah (6 EVs)
11PM ET (5 states, 82 electoral votes)
California (55 EVs)
Hawaii (4 EVs)
Idaho (4 EVs)
Oregon (7 EVs)
Washington (12 EVs)
1:00am (1 state, 3 electoral votes)
Alaska (3 electoral votes)
Live Coverage: Major news organizations including CBS News will have a real-time coverage which with CBSN at 6AM ET and will last until 4AM ET. CBS network's live election night coverage from 7PM until 2AM ET
More Stories for you